Kyle Larson on a ROLL! Can he carry it to Martinsville?
By Kent Whitaker:
Kyle Larson has exploded this season. The young driver has more than let it be known that he's going to be a major factor when it comes to the Monster Energy NASCAR Cup Series Championship battle! It all came together for the driver, and Chip Ganassi Racing at Auto Club Speedway for the Auto Club 400.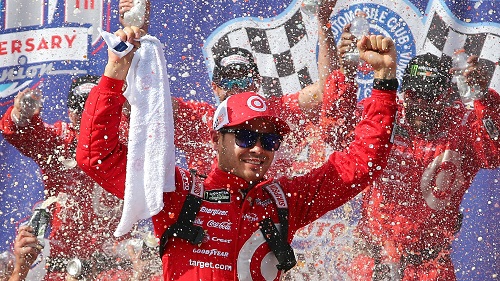 Larson led 110 laps and held off a variety of drivers during several late race restarts. Even though he believed there were some cars that could catch him on the restarts the only one that had a chance had already wrecked. Brad Keselowski came in second following an early race spin that caused some damage to his car. Larson said he was beginning to get frustrated.
"I was staying as calm as I could be, but also frustrated at the same time," Larson said of the late-race restarts. "It seems like every time I get to the lead at the end of one of these things, the caution comes out and I've got to fight people off on restarts. Our Target Chevy was amazing all day. We were able to lead a lot of laps today."
The Rise of Ganassi Racing
One thing that needs to be pointed out is that the opening of the 2017 season started with some semi-bad news for the team. They would be facing sponsorship issues in 2018 as Target has announced changes to their racing sponsorship program.
And, it's no big secret that over the last several years the Ganassi organization has been one of the mid-tier teams in the sport. That's begun to change this season as the team has provided Larson with a series of great cars to date as 2017 get going full swing. And, Kyle Larson stated it as plain fact!
"Our cars are by far as good as they've ever been and really good at every race track right now, and in most series I feel like I have a shot to win every time I go to the track."
This has signaled a rise in the standings for Chip Ganassi racing as one of his drivers sits at the top of the points.
Larson's Amazing Run so Far:
You just have to step back a bit to focus in on the fact that there is an outside chance that out of five races so far in 2017… Kyle Larson was in position to win four out of the five! Following a rough day at Daytona for the 500, Larson then went on to finish second in the next three races. Finally, for race number five in the schedule, Larson won!
What About Martinsville?
The next stop on the schedule is a short track in the form of Martinsville. Say goodbye to the West Coast swing – and 1.5 miles tracks for a few races. The only way to judge Larson at Martinsville this season is to tack a look back at his past numbers.  Here's his track info via racingreference.com.
Larson has 6 starts and has completed 2644 of 3000 laps for a completed lap percentage of 88.1%. He's also led 6 laps over his six starts. His average starting position is 17.8 with an average finishing position of 22.5. As you can see, Martinsville has not been the best track for Larson. But, it may be the best test yet to see if he's matured into the type of driver that can win a NASCAR Championship.


 ABOUT THE AUTHOR: Kent Whitaker, often called 'the Deck Chef,' is a sportswriter, culinary writer, and cookbook author with fourteen titles. He covers NASCAR, racing in general, Football, barbecue, grilling, and tailgating. You can visit him on " the deck chef ."