Kent Whitaker:
I love Martinsville! The track is legendary for its races, trophy, and signature food item. The trophy by the way is a handmade grandfather clock and the signature dish is a puffy red hotdog served up on a classic white bun. Add the topping of your choice! What's not to love?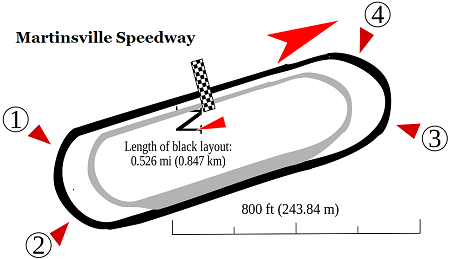 Oh, and there was a race! Yes, it was back to short track racing for the Monster Energy NASCAR Cup Series following the West Coast swing. The series hit Martinsville this past Sunday for the running of the STP 500.
The track, often called the "paperclip" offered up the banging and bumping that people expected. The race also offered up the first multi-win driver of the 2017 season in the form of Brad Keselowski!
Brad's Second Win of 2017
The No. 2 Ford driver hoisted the American Flag as normal for his post win burnout before collecting the famed Martinsville clock trophy in victory lane. It was the first win at the track for Keselowski in his cup series career. Keselowski has raced well at the track over the years but could never nail down a win.
"This is awesome. We've ran so good here with the Miller Lite Ford, but something always happens and we haven't been able to bring it home," said Keselowski. "Martinsville is just one of those champion's tracks. The guys that run well everywhere run well here, and it's really just an honor to win here and get to compete here. This track is 70 years old and a lot of legends have won here. It feels great to be able to join them and bring home a clock."
Battle with Busch
The first two stages of the race were a fight between only a handful of cars but it really only boiled down to a battle between Kesekowski and Kyle Busch at the end. Busch seemed to have the race winning car but once again the checkered flag slowly faded from his view as the laps clicked away.
Busch led a race high total of 274 laps before finishing second. The two drivers swapped the front spot several times before Keselowski finally passed and pulled away from Busch with 43 laps to go. As with several races this year the driver of the No. 18 Toyota for Joe Gibbs Racing felt his car fading at the end. Busch said the change in his car at Martinsville came following a late race tire change.
"It's just frustrating when you come down pit road and you don't make any changes and you bolt a set of tires on it and it goes to junk. I hate that that happened," Busch stated while talking about his second-place run. "We still haven't finished where we should have this year. We haven't gotten any finishes that are indicative of where this team's been running or where we're capable of running or finishing and that's just frustrating, so we'll continue on."
The End Result!
What Martinsville shows is that Team Penske is once again a powerhouse multi-car team. Both Keselowski and Joey Logano have been running great this season. And the associate team in the form of Wood Brothers Racing with driver Ryan Blaney is right there with them.
Martinsville also brightens the spotlight on teams such as Dale Earnhardt Jr and Jimmie Johnson. Earnhardt was caught up in a crash which ended his day early and Jimmie Johnson struggled to finish in the fourteenth position. Both driver expected better seasons than what they've put together so far in 2017. But, the bottom line is Kyle Larson managed his race as well as a driver could and he continues to sit atop the point standings.


ABOUT THE AUTHOR: Kent Whitaker, often called 'the Deck Chef,' is a sportswriter, culinary writer, and cookbook author with fourteen titles. He covers NASCAR, racing in general, Football, barbecue, grilling, and tailgating. You can visit him on www.thedeckchef.com ."